Who saved my number full guide
December 4, 2022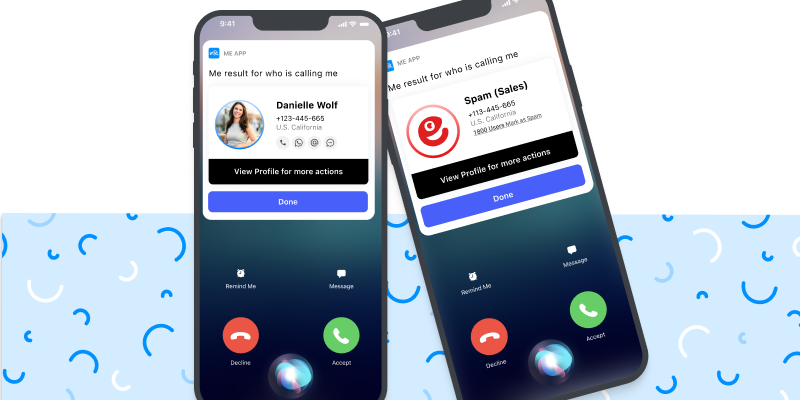 Real Time Caller ID for iPhone (Siri "Who's Calling Me?") or (Double Tap).
May 7, 2023
Caller id WhatsApp, Are you tired of constantly receiving calls and messages from unknown numbers on WhatsApp,?
Do you wish there was a way to easily identify who is contacting you from third-party applications? Well, now there is!
Don't have Me yet? download now
 
Me Introducing the New Feature: Identify Numbers from third-party apps like WhatsApp Viber and more
Me version 7.2.4 and up
platform: android
We are excited to announce a new feature that allows users to identify the source of incoming calls and messages from WhatsApp and viber
With this feature, you can quickly and easily see who is trying to reach you,  and get more info about the phone number in real time!
How do I enable caller ID on WhatsApp?
To use this feature, simply open the Me app
To activate, go to setting > Caller ID -> Caller ID in third-party apps, –> Active
(you need to activate the relevant permissions)
How do identify person who msg  or call you through WhatsApp?
From today you will be able to identify (incoming or outgoing calls),  and identify who is sending you messages on WhatsApp from numbers that are not in your contacts!
** All the calls or messages you receive on WhatsApp from unknown numbers will be identified by the Me application in real time without the need to copy the number!  **
How to identify person who msg through WhatsApp
Every WhatsApp message you receive from an unknown number, Me will send you a push without sound (less annoying)
tap on the push will allow you to see (next image)

on screen all the results me has identified for you, in REAL TIME
for reach the profile tap on the image for more details about the number  to see mutual contacts and more info
This is what a WhatsApp call with me caller ID looks like
(incoming or outgoing calls)
Attention is important to know!
1. Messages that are in muted mode from groups or people Caller ID will not work!
2. After identification, all the data will be saved for you under the "identified numbers screen" in me app, which can be filtered with new tags.
* for example: a WhatsApp call will be saved as an VoIP call, and a message  will be saved as a chat. clicking on one of the tags will lead you to the limited list of results for the selected tag.
Don't have Me yet? download now
 
We are constantly working on improving our app and providing our users with new and useful features. This new feature is just one of many updates that we have in store, so be sure to stay tuned for more exciting announcements in the future.
Thank you for using Me app and we hope you enjoy this new feature!