Call Summary
February 13, 2021
How to send WhatsApp message to unsaved number
February 17, 2021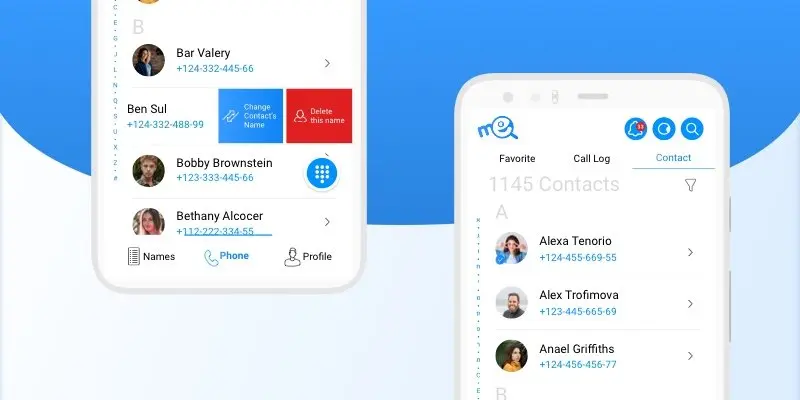 Contacts – Guidelines
Don't be modest, we know you are a social star and that the numbers just keep on coming, and hey you can't remember everyone right? 😉
Every day we keep new numbers, so it's natural for us sometimes to forget how did we named that specific one that we need at the moment.
ME app offers you the best solution with an innovative new screen of contacts.
We have developed an advanced "contacts" tab that will assist you in locating the contact you are looking for in a more efficient and less time-consuming matter.
You can filter the search by recently saved numbers and locate them quickly, or view the contacts that are using the app and see the mutual contacts between you both. In addition, you can change the contact name quickly and easily dial by swiping.
So, if you are tired of the outdated simple contacts screen of your phone it is time to move on and upgrade yourself.
In this article, we will introduce you to all the new features available for your use and enjoyment. If you did not know of their existence until now it is definitely time you will!
So where do you find this amazing new tab in the app?
Go to Me—> Select Phone—> and select Contacts

Quick operations in the Me Contacts tab:
For additional actions such as Rename or delete the contact, you slide right. for example:
Delete – Slide left and select Delete.
Rename contact – Slide right and select "Rename for contact".
Sliding the screen down will open for you a search feature where you can search a contact via names or numbers.

Filter and sorting Contacts tab:
* Contacts you recently added.
* Contacts using the ME app.
* Quick access to number recognition dialer with a shortcut t9.

* Tapping on an image will always lead you straight to the profile of the contact number.
Contacts photo and merge duplicate photo!
how?
go to meapp setting > click on contacts > and choose:
1.Contact Photo Sync – the system will synchronize photos for your contacts and will update the contact card on your phone with the ME picture.
2. Merge duplicate contacts – No more duplicate contacts, the system will allow you to search and merge duplicate contacts automatically
We've got your back-Backup and restore contacts: Backup and restore
yes! me contact support also beautiful Dark mode – to the full article please click here.
Flight Mode Support – Offline mode (No Internet).