Caller ID (Android)
October 6, 2021
Backup and restore in your cloud
July 10, 2022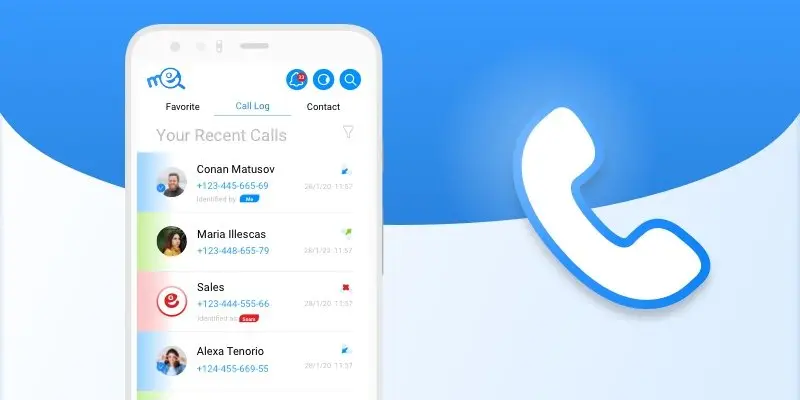 Amazing call log leave your old call log and start to use me.app
This screen is suited for both iPhones and Android.
Don't have Me yet? download now
 

Drag right for speed dial < > Drag Left for Send WhatsApp 
Multiple deletion in call log Long press on one of the records and then you can mark which calls to delete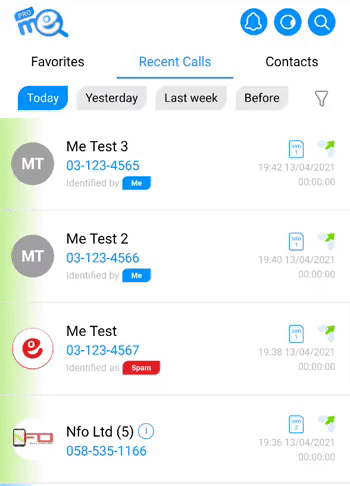 The new ME's call log is very organized.
Outgoing and incoming calls, Spam calls, missed calls, and more;
All easily noticeable by our superb design.
Color specifications:
Red – missed call
Blue – incoming calls
Green – Outgoing calls
The design will help you distinguish between all types of calls,
And immediately understand if it's an incoming/outgoing or a missed call.
You can also filter via call log. 
Tapping on the filter tag will allow you to select the desired results and reach the wanted number in seconds.
By tags:
Incoming calls
out coming calls
Missed calls
A-Z
Recent calls
Spam calls
Calls identified by ME
Dual Sim Support!
You can in settings choose which SIM will be the main for calls from the app or choose Who will ask you in every call from which sim to call

Read more about Me Dual Sim
And also, the option of getting results from your contacts only. and more..
Tapping on an image – will always lead to that number's profile and present with the options to perform various actions such as sending WhatsApp, seeing more details, and more.
Please Note! Deleting a call log record will also delete the record on your phone.
To create a shortcut of the call log, read about it here.
We continuously improve and develop the App for your satisfaction. Please share with us in the comments thoughts and ideas of what is missing for you on this screen, and we will update it in the following versions.